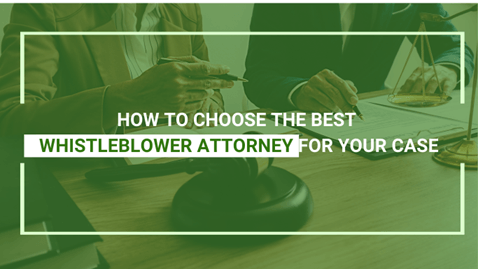 A whistleblower is a courageous person who has come forward with information that exposes wrongdoing. Reporting fraud can be a stressful, complicated process. Those who blow the whistle are often risking their careers to do the right thing.
Everyday Americans are exposing fraudulent schemes and wrongdoing with increasing frequency. Regardless of what form fraudulent schemes take, a defining commonality is that they all waste taxpayer dollars. The False Claims Act is designed to encourage those who have knowledge about fraud against the government to report this wrongdoing.
Whistleblower laws frequently offer a level of protection and a financial reward to those who come forward with this valuable information. Law firms representing whistleblowers can help you protect your rights, stop fraud, and maximize your rewards.
What to Look for in a Whistleblower Attorney
When you are exposing fraud or wrongdoing, you deserve a strong advocate on your side. If you are wondering how to find a whistleblower attorney, look for the following characteristics in a lawyer or law firm:
1. Extensive Experience
Because every whistleblower claim is different, a whistleblower attorney should have extensive experience with the False Claims Act. An experienced attorney can assist you in determining if you have a viable False Claims Act case. Your attorney can then help you collect the information and evidence you need to pursue a claim successfully.
Regardless of the specific circumstances surrounding your case, an experienced whistleblower lawyer will have the necessary knowledge and skills to protect your rights and assist you to obtain an optimal result.
2. Successful Track Record
A whistleblower attorney should also have a lengthy track record of successful reward recoveries for whistleblowers. Professional accolades and experience will not benefit your case if the attorney cannot produce results. A whistleblower attorney should have a history of successfully resolving cases and working closely with government agents, investigators and attorneys. Top whistleblower law firms have a long list of satisfied clients. At Goldberg Kohn, our lawyers have helped numerous clients reach successful settlements and helped shape whistleblower laws litigating cases all the way through trial.
3. Appropriate Areas of Expertise
You should ensure that your whistleblower attorney specializes in litigating whistleblower cases, which are unique and present numerous specialized legal issues. Some attorneys and law firms have designed their websites to make it appear as though whistleblower cases are their area of expertise, even if the firm actually specializes in other areas of law. Whistleblower laws like Dodd-Frank and the False Claims Act are complex, and a lawyer who misinterprets them could be detrimental to your case.
At Goldberg Kohn, our expertise lies in helping whistleblowers fight fraud against the government. Among our many successes, our landmark whistleblower victory demonstrates we have the capacity to support our clients in a way that few other law firms can.
4. List of Cases They Have Been Involved In
Does a whistleblower lawyer or law firm list on their website the cases they have successfully litigated? To the extent an attorney or law firm's stated involvement in a particular case affects your decision to choose counsel, ask your prospective attorney about his or her involvement in the particular case. Some law firms may include a list of sample cases, even though they were not the lead attorneys in these cases.
At Goldberg Kohn, we have obtained several successful settlements and other False Claims Act successes for our whistleblower clients. We routinely obtain government support and judicial decisions that positively affect the False Claims Act.
5. Experience Working Closely With the U.S. Department of Justice
If you have a qui tam whistleblower case, your chances of success are greater if your attorney works with the government to pursue your case. Further, the government's participation is necessary for claims filed with the IRS, SEC and CFTC. Determine what the potential law firm did in past cases to encourage the government to investigate allegations, including the eventual result.
6. Ability to Protect Your Interests
Making a protected disclosure against a private company, your employer or another party can be an intimidating task. If you find yourself in this situation, you may be concerned about the possible repercussions on your career. You could face whistleblower retaliation, which is why it is crucial to find the whistleblower legal representation that best aligns with the needs of your case.
You should ensure the law firm will be able to protect your interests. An attorney should be capable of handling your case with confidentiality and sensitivity. Whistleblower attorneys who protect your interests will:
Answer your questions

Listen to your story and concerns

Ensure you are comfortable with how your case is progressing
7. Positive Service Record
Before you hire an attorney, you should confirm the reputation of the law firm and how it approaches customer service. Will a whistleblower lawyer or law firm be responsive while working with you? Do they have positive reviews? Reading reviews and testimonials online can give you an idea of what it is like to work with a particular lawyer.
8. Adequate Time and Resources to Devote to Your Case
Is this a referral agency, or will they take on your case? An attorney who has the time and resources to devote to your case will be able to give you the full attention you need. If a lawyer is not willing to devote the resources, time and energy needed to win your case, they will not be able to provide effective legal representation.
Our attorneys at Goldberg Kohn will relentlessly advocate for your rights. We know many of our clients work for years to address wrongful conduct before contacting us, and we are prepared to utilize the resources needed to support your case.
Attorneys can represent whistleblowers across the country. If a whistleblower attorney is considering taking on your case, they should offer to cover your travel costs for meeting with him or her. At Goldberg Kohn, we handle cases for clients throughout the nation, and we can help you with your case no matter where you are located.
9. Quick Action to Help You Report What You Know
A whistleblower claim is a time-sensitive matter. You may want to hire a whistleblower attorney as soon as possible if you intend to make a protected disclosure and pursue compensation via a whistleblower reward program. As soon as you are able to get an experienced lawyer on your side, you will have a better sense of the legal options available to you. An attorney at a top-rated law firm will be able to act quickly and inform you about the proper way to expose fraud or wrongdoing. If you need additional information to proceed with your legal case, an attorney at Goldberg Kohn can help you determine the best way to obtain this information.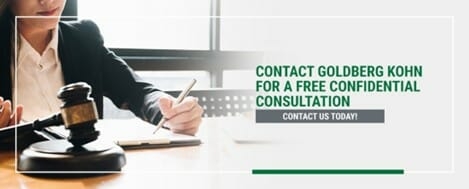 Contact Goldberg Kohn for a Free Confidential Consultation
To pursue a False Claims Act case successfully, you need a top whistleblower attorney. The whistleblower lawyers at Goldberg Kohn are committed to protecting our clients' rights and helping them fight against fraud. We have represented whistleblowers in the following claims:
Healthcare fraud against Medicare and Medicaid programs and other government and private payers, including:
Billing for unnecessary medical devices

Illegal inducements and/or kickbacks

Addiction rehabilitation fraud

Behavioral health fraud

Managed care capitation rate manipulation

Home health fraud

Hospice fraud

Education fraud, including:

Higher education misrepresentation

E-rate telecommunications fraud

Financial fraud by asset managers

Mortgage servicing fraud
We have the resources and experience needed to take on the largest corporate defendants on our clients' behalf. We will fight for you every step of the way. To discuss your potential whistleblower case, contact us at Goldberg Kohn for a free, confidential consultation with a whistleblower attorney.