What are Kickbacks in Healthcare?
Health care laws restrict the financial relationships that hospitals, physicians, and other health care providers can have with doctors who refer patients to them. Kickbacks can include any number of illegal financial incentives to convince a physician to refer their patients to the services or products of a certain hospital or other healthcare association. Under the qui tam provisions of the False Claims Act, whistleblowers who come forward to report kickback schemes and other health care fraud are entitled to a share of the government's financial recovery.
How are Healthcare Kickback Schemes Illegal?
Kickback schemes not only compromise medical integrity—they also cost taxpayers billions of dollars each year. Whether federal or private dollars are involved, we trust medical professionals to come up for the treatment options that will best protect patients, not line doctors' pockets or pad company profits.
Accordingly, the federal government takes allegations of kickback schemes very seriously. "Kickbacks undermine the independence of physician and patient decision-making, and raise healthcare costs," said Acting Assistant Attorney General Chad A. Readler of the Justice Department's Civil Division, in a press release announcing that pharmaceutical company Pfizer would be paying $23.85 million to settle kickback allegations. FBI Special Agent Harold H. Shaw also commented on the settlement: "Today's settlement demonstrates the FBI's commitment to making sure patients receive, and the government pays for, health care that is not compromised by kickbacks."
The federal government aggressively enforces violations of the Stark Law and the Anti-Kickback Statute, the two main laws that govern kickback schemes. [1][2]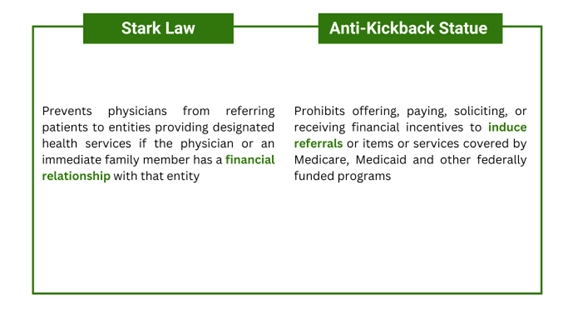 The Anti-Kickback Statute ("AKS") expressly states that AKS violations constitute "false or fraudulent" claims under the False Claims Act, and violations of the Stark Law, also known as the "Physician Self-Referral Law", could also contribute to False Claims allegations if Medicare or Medicaid patients are involved.
Who May Be Involved in a Healthcare Kickback Scheme?
Kickback schemes involve improper financial relationships between at least two different entities. Entities that have been involved in healthcare kickback schemes include:
Healthcare Providers:

Hospitals

Nursing homes

Physical therapy clinics

Companies that sell medical product or provide specialized medical services:

Ambulance companies

Drug testing & diagnostic laboratories

Hospital Staffing companies

Medical device companies

Pharmaceutical companies

Pharmaceutical marketing companies

Pharmacies

Individuals:

Doctors, nurses or staff at any of the above
What Types of Kickbacks Are There?
Any kind of unearned restitution can qualify as a kickback, so healthcare kickbacks can come in a number of different forms: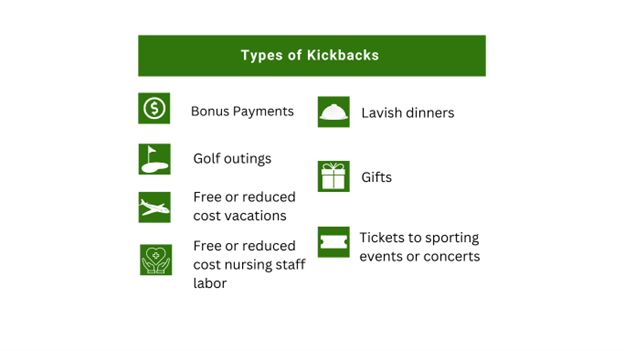 Alternatively, companies may try to make kickbacks look like legitimate payments for services rendered. For instance, they may offer high payments to doctors and disguise them as speaking fees or research funding grants.
It is also possible for healthcare kickback schemes to take place in the pharmaceutical marketplace outside the hospital setting. Kickbacks in this case could take the form of pharmaceutical companies offering co-pay assistance to Medicare consumers, or pharmacies sharing revenue with healthcare marketing companies in exchange for prescription referrals.
Examples of Healthcare Kickback Cases
Goldberg Kohn has worked on a number of successful healthcare kickback cases over the years. A few examples include:
Allergan, a pharmaceutical company, settled a case for $13 million in which it was accused of providing services such as business consulting to ophthalmologists in return for them prescribing Allergan eye products.

Community Health Systems settled a case in which it allegedly admitted Medicare patients in its emergency rooms who did not require admittance in order to bill the government. CHS offered incentives to its physicians to increase fraudulent admissions.

Omnicare, a long-term care pharmacy, agreed to pay $17.2 million to the government to settle allegations that their purchase of Total Pharmacy included a multimillion-dollar kickback to secure contracts with more than two dozen nursing homes.
Contact a Kickback Fraud Lawyer at Goldberg Kohn
For more information on these cases and others, see our Settlements and Other False Claims Act Successes pages. The whistleblower attorneys at Goldberg Kohn are committed to combating kickback schemes and other health care fraud, as well as protecting the rights of whistleblowers. If you suspect an illegal kickback scheme, or would like to discuss a possible False Claims Act case, contact us online to schedule a free, confidential appointment with one of our whistleblower attorneys.