Pharmaceutical and biotech companies regularly commit health care fraud, particularly given the high profits that stand to be gained through misconduct and wrongdoing. Pharmaceutical fraud can range from illegal drug marketing to offering improper kickbacks.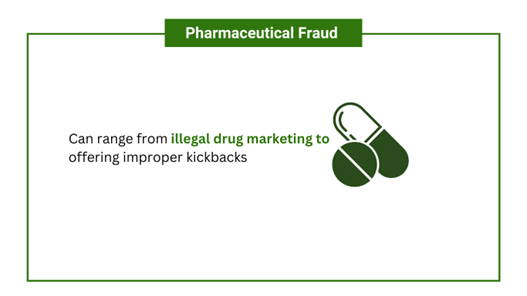 Fraud committed by nursing homes and hospice facilities can take a number of forms, including the following:
Off-Label Marketing: Pharmaceutical companies are prohibited from encouraging or inducing a doctor to prescribe a drug for a use that has not been approved by the U.S. Food and Drug Administration (FDA). If it does so, the pharmaceutical company may be found liable for violating the False Claims Act.
Medicare Part D: Medicare's hospice benefits provide palliative care to terminally ill patients, and some nursing home and hospice facilities have used these provisions as a means of financial gain.
Overbilling: If a pharmaceutical company charges Medicare or Medicaid inflated prices for medications, the misconduct may give rise to a False Claims Act case. Medicare and state Medicaid programs set the price for medications based on the Average Wholesale Price (AWP) for that drug. If the drug company inflates the price over the AWP in order to "market the spread" and induce pharmacists and doctors to prescribe their drug, it could give rise to a False Claims Act case
Kickbacks: Healthcare laws restrict the financial relationships between healthcare providers, including pharmaceutical companies. Accordingly, drug companies are prohibited from offering payments or other financial incentives to hospitals or doctors to entice them to prescribe their products. Illegal kickbacks can include: financial incentives, bonus payments, free vacations, lavish dinners, tickets to sporting events or concerts, gifts, speaking fees, and research funding grants.
Best Price Fraud: In order to sell a product to Medicaid, a drug company must agree to charge Medicaid the lowest price at which it sells the drug to wholesalers, pharmacists, HMOS, other groups insurers, and private customers. If a drug company offers a drug at a lower price than it offers to Medicaid, it could be a violation of the False Claims Act.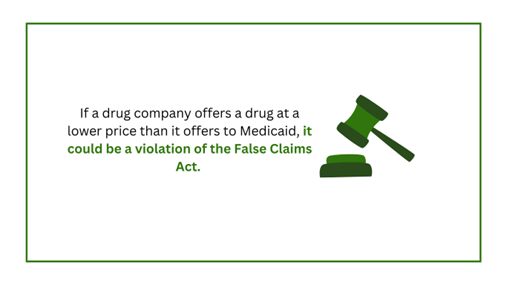 In many cases, health care fraud is actionable under the False Claims Act, which rewards whistleblowers with a share of the government's financial recovery. Frequently the financial recoveries in pharmaceutical fraud cases are significant. For instance, some recent cases of pharmaceutical fraud include the following:
Endo Health Solutions agreed to pay $192.7 million to settle civil and criminal charges that it illegally marketed a pain treatment patch called Lidoderm.
Teva Pharmaceuticals USA Inc. and a subsidiary, IVAX LLC agreed to pay the government and the state of Illinois $27.6 million for allegedly violating the False Claims Act by making payments to an Illinois doctor to induce the prescription of generic clozapine, an anti-psychotic medication that has serious potential side effects and should generally be used only as a drug of last resort.

Genzyme Corp. a Massachusetts biotech company – recently agreed to pay $22.28 million to the federal government and 48 states to resolve allegations that it marketed and caused false claims to be submitted to federal and state health care programs for use of a "slurry" version of its Seprafilm adhesion barrier, which is used after surgery to form a barrier between abdominal tissue and organs.
Contact a Pharmaceutical Fraud Lawyer at Goldberg Kohn
The whistleblower attorneys at Goldberg Kohn are committed to protecting the rights of whistleblowers and fighting pharmaceutical fraud, as well as other types of healthcare fraud. If you suspect pharmaceutical fraud or would like to discuss a possible False Claims Act case, contact us online to schedule a free, confidential appointment with one of our whistleblower attorneys.