Medicare and Medicaid fraud are among the most common types of fraud on the government, costing billions of dollars each year. Since January of 2009, the Justice Department has recovered more than $24 billion related to False Claims Act cases surrounding fraud against federal health care programs.
What Is Medicare and Medicaid Fraud?
Medicare and Medicaid fraud occurs when a healthcare provider bills the government for supplies or services that were not actually provided. Medicare fraud is rampant and costs taxpayers billions of dollars a year, often affecting vulnerable populations who rely on Medicare to receive critical treatment.
Types of Medicare and Medicaid Fraud
Medicare and Medicaid fraud can take a number of forms, including the following: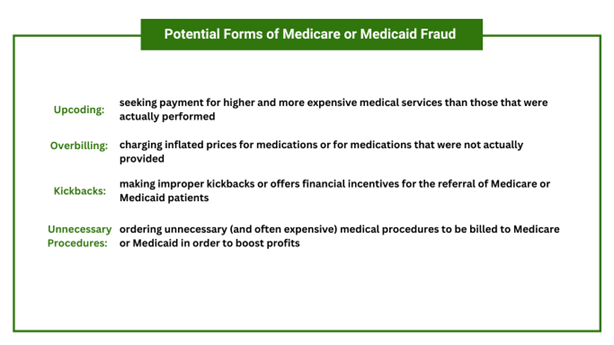 1. Upcoding
Upcoding occurs when a hospital or healthcare provider bills Medicaid or Medicare for medical services that are more expensive than the services that were actually performed.
For example, the government intervened in a suit that Goldberg Kohn originally filed against IPC The Hospitalist Co. Inc, which is one of the country's largest hospitalist service providers. There, the government alleged that IPC engaged in a national upcoding scheme by encouraging its physicians to bill at the highest available levels of hospital care—much higher than was warranted by the services they actually provided. For example, the government alleged that IPC physicians routinely billed for services in a single day that would take longer than 24 hours to perform.
2. Overbilling
Overbilling for medication or services occurs when a healthcare provider or doctor charges Medicaid or Medicare inflated prices for medications or services, or charges for medications or services it did not provide.
For example, a person who undergoes surgery may receive a bill that includes charges for the surgery, the surgical tray and the tools used. This could be a case of overbilling if these charges aren't specified or shouldn't be included in the bill. You should consult with a lawyer to see if your charges constitute overbilling for your respective procedure.
3. Kickbacks
The Anti-Kickback Statute prohibits soliciting, paying, offering, or receiving anything of value to induce or reward referrals for services or items that federal health care programs have paid for. For example, a pharmaceutical company may attempt to ensure physicians prescribe the company's drugs by offering payments, trips, or other valuable items to the physicians or the clinic at which they work. Or, a laboratory may give a commission to a doctor or clinic for every patient the doctor or clinic sends to the lab for blood tests. In each instance, the pharmaceutical company and laboratory are paying kickbacks, and the physicians are receiving them.
4. Unnecessary Medical Procedures
A physician may order unnecessary medical procedures where they order costly treatments that are not medically necessary. Procedures may be unnecessary if they are uncommon in the treatment of a patient with a particular condition; if a procedure is done more frequently than is needed; or if a treatment is used that is prohibitively more expensive than another treatment that would have obtained the same results. Unnecessary surgeries may account for as much as 10 to 20 percent of operations in certain specialties, for example, certain spinal surgeries and a range of cardiac procedures.
What Are the Impacts of Medicaid and Medicare Fraud?
The effects of healthcare fraud can be far-reaching. A few examples of specific healthcare fraud can be understood as billing unnecessary medical services that are not actually performed, falsifying patient medical records to justify procedures, and/or promoting opioid drugs through illegal kickbacks to healthcare providers.
Fraud isn't a victimless crime. It impacts consumers, businesses and the government. Some far-reaching effects of Medicaid and Medicare fraud include:
1. Patient Endangerment
When providers recommend unnecessary treatments, patients' health becomes at risk. Similarly, a provider may recommend a more invasive or expensive treatment to a patient, which can put the patient at greater risk for side effects or complications.
Patients are also endangered by opioid-related fraud. Fraudulent schemes such as illegal kick backing or off-label marketing in which doctors are incentivized to overprescribe exceptionally dangerous drugs to patients who do not medically require such medication.
These unlawful strategies being implemented by pharmaceutical companies are contributing to the national opioid crisis.
2. Wasted Resources
Fraud wastes resources. When medical providers or health plans bill for services they didn't provide or try to bill for more expensive services than what they offered, they divert money away from legitimate providers who are offering services patients actually need.
Medicaid and Medicare both have limited funding sources. It's critical that the money allowed for each covers the cost of legitimate, needed health care services.
3. Higher Costs
In 2020, Medicare improper payments totaled more than $25 billion, and Medicaid improper payments were over $86 billion. Those costs pass down to taxpayers in the form of higher taxes and increased medical costs.
Medicare and Medicaid Fraud Laws
The following laws govern Medicare fraud:
1. Stark Law
The Stark Law prohibits a physician from referring patients to an entity for designated health services with which the physician has a direct or indirect financial relationship, unless an exception applies. For example, the Stark Law prohibits a physician who owns an equity stake in a diagnostic testing laboratory from referring his patients to that the laboratory for diagnostic tests. Where a hospital pays a physician far in excess of fair market value, and the payment rises or falls with the number of referrals the physician makes to the hospital, that relationship may also violate the Stark Law. The Stark Law prevents physicians from profiting from their own referrals, and ensures that physicians make decisions about patient care based on medical considerations, as opposed to financial incentives.
2. Anti-Kickback Statute
The federal Anti-Kickback Statute prohibits any entity or person from making or accepting payment to reward any person for recommending, arranging or referring for medical services that are federally funded. This statute arose due to a concern that payoffs to individuals who can influence a healthcare decision will result in services and goods being provided that are not medically necessary, of poor quality or harmful to a vulnerable population of patients.
3. False Claims Act
The False Claims Act empowers individuals with knowledge of fraud against the government to file suit on behalf of the government, and to obtain a reward if the case is successful.
Medicare and Medicaid Fraud Whistleblowers
Whistleblowers play an important role in fighting health care fraud. Under the False Claims Act, private citizens (whistleblowers) may bring suits on behalf of the government ("qui tam" suits) against individuals who have allegedly defrauded the government. Parties found guilty of such fraud are liable for up to three times the defrauded amount, plus any civil penalties. Individuals reporting and bringing a suit against those committing fraud can receive up to 30% of the recovered amount.
However, the suit must be successful, meaning whistleblowers must have solid evidence that fraud occurred and be prepared to bring and endure a lawsuit.
The False Claims Act offers retaliation protection for whistleblowers. Under the Act, anyone fired, harassed or otherwise discriminated against as a result of such whistleblowing can seek relief in the form of reinstatement or damages.
If you are a whistleblower with information about fraud on the government, the Medicare and Medicaid fraud attorneys at Goldberg Kohn can assist you to evaluate your claim and potentially file suit which, if successful, could result in a financial award.
Contact a Medicare Fraud Lawyer at Goldberg Kohn
The whistleblower lawyers at Goldberg Kohn protect the rights of whistleblowers and fight Medicare and Medicaid fraud frequently. If you suspect Medicare, Medicaid or other healthcare fraud, or you want to discuss a possible case, contact us to schedule a free and confidential appointment today with a whistleblower attorney.