For-profit schools have become a hotbed for fraud in recent years. Because for-profit colleges rely heavily on government aid, these schools often target lower-income, minority and immigrant students, and some for-profit schools have been accused of engaging fraudulent enrollment practices in order to reach the potential students and the government funds that they bring in.
If the misconduct defrauds the government out of taxpayer dollars, it may give rise to a False Claims Act case. Under the False Claims Act, the government is entitled to triple damages, and the whistleblower who comes forward to report that fraud may be entitled to a share of the government's recovery.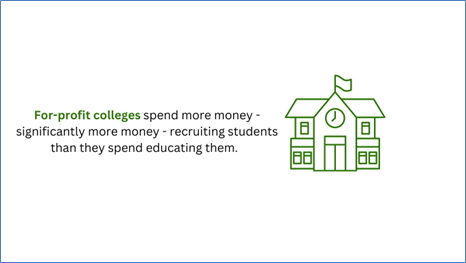 The government has been investigating the questionable enrollment practices of for-profit colleges for the past few years, and a 2012 Senate probe into the practices of for-profit colleges revealed that shocking results – namely, that for-profit universities are costing the government and taxpayers billions of dollars each year. In fact, according to the Senate report, for-profit colleges spend more money – significantly more money – recruiting students than they spend educating them. In addition to the startling findings of the government investigations, more and more whistleblowers are coming forward with anecdotal evidence and insider information about fraud within the industry.
Contact a Education Fraud Lawyer at Goldberg Kohn
The whistleblower attorneys at Goldberg Kohn are committed to fighting fraud against the government and protecting the rights of whistleblowers. Please contact us online if you would like to learn more about fraud within the for-profit education industry or would like to schedule a free, confidential appointment with one of our nationally recognized whistleblower attorneys.