The medical services and treatments provided by a hospital must comply with state and federal health care laws. If a hospital fails to comply with all requirements, or violates health care laws, the fraud may give rise to a False Claims Act case. Violators of the False Claims Act are subject to significant fines and penalties, and a whistleblower who comes forward to report the hospital fraud may be able to share in the recovery obtained by the government. The whistleblower attorneys at Goldberg Kohn represent whistleblowers in a wide variety of health care fraud cases, including those involving hospital fraud.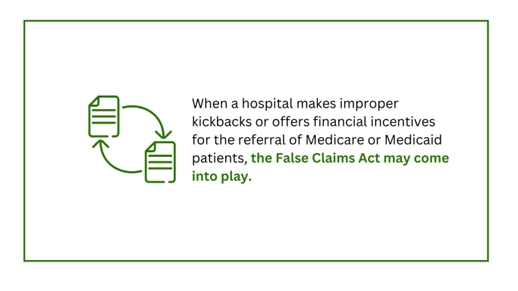 The most common types of hospital fraud include:
Unnecessary Admissions: Improper hospital admissions cost the government millions of dollars in unnecessary fees and subject patients to excessive treatment and unnecessary risks, and the government has expressed its intent to aggressively pursue lawsuits that allege improper hospital admissions. For instance, in 2014, the federal government intervened in a massive lawsuit against a hospital chain that allegedly admitted patients that could have been treated as outpatients or discharged in order inflate its profits.
Upcoding: Upcoding is when a hospital seeks payment from Medicare or Medicaid for higher and more expensive medical services than those that were actually performed. For instance, the government intervened in our massive lawsuit originally filed by Goldberg Kohn, Ltd. against IPC The Hospitalist Co. Inc. and its subsidiaries (IPC) – one of the largest providers of hospitalist services in the country – alleging that IPC engaged in a fraudulent upcoding scheme by encouraging its doctors to bill at the highest levels available, regardless of the level of service provided, and training physicians to use higher level codes and encouraging physicians with lower billing levels to "catch up" to their peers.

Overbilling: Similar to upcoding, overbilling for medication occurs when a hospital charges Medicare or Medicaid inflated prices for medications or for medications that were not actually provided

Kickbacks: Health care laws restrict the financial relationships that hospitals can have with doctors, pharmaceutical companies and other health care providers who refer patients to them. When a hospital makes improper kickbacks or offers financial incentives for the referral of Medicare or Medicaid patients, the False Claims Act may come into play.

Unnecessary Medical Procedures: In some cases, a hospital will order unnecessary (and often expensive) medical procedures to be billed to Medicare or Medicaid in order to boost profits. According to some estimates, unnecessary surgeries might account for 10% to 20% of all operations in some specialties, including a wide range of cardiac procedures and many spinal surgeries.
Contact a Hospital Fraud Lawyer at Goldberg Kohn
The whistleblower attorneys at Goldberg Kohn are committed to protecting the rights of whistleblowers and fighting hospital fraud, as well as other types of healthcare fraud. If you suspect hospital fraud, or would like to discuss a possible False Claims Act case, contact us online to schedule a free, confidential appointment with one of our whistleblower attorneys.