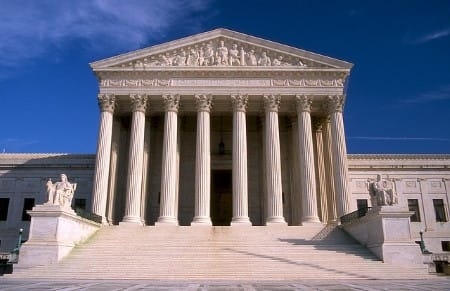 In 2016, the Supreme Court decided the landmark FCA case Universal Health Servs., Inc. v. United States ex rel. Escobar, 136 S.Ct. 1989 (2016). Escobar resolved a circuit split over the implied false certification theory of liability under the FCA, upholding the theory as valid but tightly circumscribing its scope through a "rigorous" interpretation of the Act's materiality and scienter requirements—holding that "[a] misrepresentation about compliance with a statutory, regulatory, or contractual requirement must be material to the Government's payment decision in order to be actionable under the False Claims Act." Escobar, 136 S.Ct. at 1996. This holding continues to percolate through the federal courts, proving determinative in several recent cases of interest.
In October 2017, Virginia-based security contractor Triple Canopy agreed to pay the federal government $2.6 million to settle FCA allegations that guards it provided to Al Asad Airbase in Iraq in 2009 and 2010 could not meet basic firearms proficiency standards, failing to hit even easy targets. The suit alleged that Triple Canopy was aware of its guards' marksmanship failings, but falsified test score cards that it was required to maintain for government review in order to conceal the problem. The case was decided in the Fourth Circuit in 2015; reviewing a motion to dismiss, the appellate court upheld allegations pertaining to Al Asad Airbase and dismissed others pertaining to other bases. See U.S. v. Triple Canopy, Inc., 775 F.3d 628 (4th Cir. Jan. 8, 2015).
At issue was the materiality of the marksmanship requirement, which was a provision in the contract between the government and Triple Canopy, but not an express condition of payment. The Fourth Circuit held that in order to "establish materiality, the Government must allege the false statement had 'a natural tendency to influence, or be capable of influencing,' the Government's decision to pay. 31 U.S.C. § 3729(b)(4)," and explained that "[e]xpress contractual language may constitute dispositive evidence of materiality, but materiality may be established in other ways, such as through testimony demonstrating that both parties to the contract understood that payment was conditional on compliance with the requirement at issue." Triple Canopy, 775 F.3d at 637 (some citations and quotations omitted). The court held that the government sufficiently pled materiality under this standard, citing common sense and Triple Canopy's intentional cover-up of the guards' marksmanship problems.
Triple Canopy appealed the decision to the Supreme Court, which granted cert and remanded the case to the Fourth Circuit for further consideration in light of Escobar in June 2016. See Triple Canopy, Inc. v. U.S. ex rel. Badr, 136 S.Ct. 2504 (Mem) (Jun. 27, 2016). The Fourth Circuit "readily conclude[d] that [Escobar] does not alter our earlier panel decision" and, as before, upheld the sufficiency of the allegations pertaining to Al Asad Airbase. See United States v. Triple Canopy, Inc., 857 F.3d 174, 177 (4th Cir. May 16, 2017). The case settled in October 2017, allowing the government to reclaim $2.6 million of the $4.35 million that was billed to the government for the guards at Al Asad.
United States v. Luce
Escobar has also reverberated in the Seventh Circuit, causing it to shift from a but-for to a proximate causation standard. In October 2017, the Seventh Circuit addressed both the Escobar materiality standard and its own causation standard in United States v. Luce, 873 F.3d 999 (7th Cir. Oct. 23, 2017). In Luce, the government alleged that defendant Luce falsely asserted that he had no criminal record so that his mortgage company could participate in a mortgage insurance program that the Department of Housing and Urban Development administers pursuant to the Fair Housing Act.
Luce appealed from a grant of summary judgment in the district court, arguing that his false certifications pertaining to his criminal history were not material under Escobar and that Escobar required a proximate rather than a but-for causation standard, bringing the Seventh Circuit in line with the others. The court found that Luce's concealment of his criminal history was indeed material under Escobar—relying on federal regulations and HUD procedures affirmatively prohibiting individuals with criminal records from serving as principals in companies participating in the loan program, and on HUD's behavior after it learned of Luce's noncompliance, swiftly moving to institute debarment proceedings to boot Luce from the program. Luce, 873 F.3d at 1008­­-09.
Though recognizing that Escobar did not specifically address causation, the Seventh Circuit noted the Supreme Court's reliance on common-law understandings of fraud as a means of interpreting the FCA, see Escobar, 136 S.Ct. at 1999, and concluded that the decision "require[s] a careful reevaluation of our FCA precedent with particular focus on the common-law understanding of fraud, the FCA's language, and our sister circuits' understanding of causation." Luce, 873 F.3d at 1011. The Seventh Circuit thus held that "[t]he statutory language of the FCA does not suggest that Congress sought to depart from the established common-law understanding of causation in fraud cases….Although the phrase 'because of' [in 31 U.S.C. § 3729(a)(1)] clearly requires causation, nothing in the FCA contains any indication of an intent to depart from the common-law understanding of causation in fraud cases." Id. at 1012. As a result, the court remanded Luce to the district court for further proceedings applying this new causation standard.
Escobar's materiality standard has been used to discount defendants' arguments that continued government payment of allegedly false claims renders noncompliance immaterial. In United States v. Berkeley HeartLab, Inc., No. 9:14-230-RMG, 2017 WL 4803911 (D. S.C. Oct. 23, 2017), relators alleged Anti-Kickback Statute violations pertaining to medical laboratory testing; defendants argued that the government's continued payment of claims after learning some facts about defendants' conduct rendered any alleged kickbacks immaterial. However, the court held that defendants "are not entitled to summary judgment on their materiality argument because the Government has provided evidence from which a reasonable juror could conclude that their AKS violations were material to the Government's decision to pay claims," see Berkeley HeartLab, WL 4803911 at *7. The court explained that the defendants:
The Berkeley HeartLab court's analysis is consistent with other courts' holdings that the government may continue to pay claims without conceding the immateriality of alleged noncompliance, see, e.g., United States v. Pub. Warehousing Co. KSC, No. 1:05-CV-2968-TWT, 2017 WL 1021745, at *6-7 (N.D. Ga. Mar. 16, 2017) ("The more essential the continued execution of a contract is to an important government interest, the less the government's continued payment weighs in favor of the government knowledge defense"); Rose v. Stephens Institute, No. 09-cv-05966-PJH, 2016 WL 5076214, at *6 (N.D. Cal. Sept. 20, 2016) ("Nothing in Escobar suggests that actions short of a complete revocation of funds are irrelevant to the court's materiality analysis"); United States ex rel. Brown v. Celgene Corp., No. CV 10-03165-GHK (SSx), 2016 WL 7626111, at *12-13 ("Escobar does not foreclose the possibility that a statutory requirement may be so central to the functioning of a government program that noncompliance is material as a matter of law"); United States ex rel. Schaefer v. Family Med. Ctrs. of S. Carolina LLC, No. 3:14-382-MBS, 2016 WL 6601017, at *4 (D. S.C. Nov. 8, 2016) ("the proper focus with respect to materiality is the influence of the false statement at the time of presentment"); United States ex rel. Williams v. City of Brockton, No. 12-cv-12193-IT, 2016 WL 7429176, at *6-7 (D. Mass. Dec. 23, 2016) ("even assuming the DOJ possessed actual knowledge, this is not determinative in the court's holistic review of materiality").
By contrast, a recent decision in the Middle District of Florida emphasizes the government's continued payment of allegedly noncompliant claims as dispositive of the materiality inquiry under Escobar. In United States and State of Florida ex rel. Ruckh v. Salus Rehabilitation, LLC, No. 8:11-cv-01303-SDM-TBM (M.D. Fla. Jan. 11, 2018), the court granted defendants' motion for judgment as a matter of law, holding that the fact that "both governments were—and are—aware of the defendants' disputed practices, aware of this action, aware of the allegations, aware of the evidence, and aware of the judgments for the relator—but neither government has ceased to pay or even threatened to stop paying the defendants for the services provided to patients throughout Florida continuously since long before this action began in 2011." Id. at 2. The Ruckh opinion treats Escobar as articulating a straightforward, uncomplicated materiality rule, focusing on the Court's statement that "if the Government pays a particular claim in full despite its actual knowledge that certain requirements were violated, that is very strong evidence that those requirements are not material" as fully dispositive of the materiality inquiry. Escobar, 136 S.Ct. at 2003-04. The Ruckh court does note that relator may have been more successful with a more robust evidentiary showing, but that without facts counterbalancing the government's continued payment, the court could not find otherwise on the materiality inquiry. Ruckh at 2.
Lower federal courts continue to evolve the Escobar materiality standard; continued government payment with actual—or even alleged—knowledge of noncompliance is dispositive of the materiality inquiry for some judges, and far less consequential for others. What continues to be clear is that plaintiff-relators need to make a robust factual showing of materiality as early as possible in the litigation process, and where the government has continued to pay claims with any sort of knowledge of noncompliance, counterbalance this less-than-convenient fact with an array of others that show materiality.
If you are aware of fraud against the government you may be eligible to blow the whistle in a False Claims Act lawsuit and may be entitled to a portion of the recovery. To find out more, contact Goldberg Kohn for a confidential consultation.