Whistleblowers have played a vital role in American history, bringing to light abuses and scandals in fields as diverse as pharmaceuticals and the military. Law enforcement agencies and government departments depend on whistleblowers to alert them to corporate and government corruption. That doesn't always mean these entities have welcomed whistleblowers, however, especially when those people are highlighting problems within their organizations.
Fortunately, federal and state legislatures have enacted protections for whistleblowers, understanding the fundamental role they play in a democracy, and whistleblowers continue to come forward with valuable information about government and corporate misdeeds. Let's examine some of the most famous whistleblower cases and the role these courageous men and women have played in our nation's history.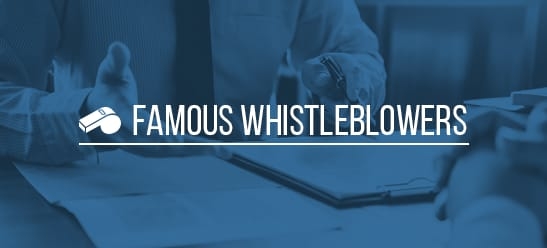 America's First Whistleblowers
Shortly after America declared its independence from British rule, and while we were still at war, 10 naval and marine officers presented a petition informing the Continental Congress that the commander in chief of the Navy was torturing British prisoners of war. One of the officers, Captain John Grannis of the U.S. Marine Corps, went overboard without permission in order to deliver the petition, risking imprisonment or execution. After investigating, Congress suspended Commodore Esek Hopkins on March 26, 1777. Hopkins was furious and he had powerful connections—his brother was a member of Congress and had served as the governor of Rhode Island. Hopkins retaliated against the whistleblowers by filing a criminal libel lawsuit against the officers remaining in the state of Rhode Island, and Samuel Shaw and Richard Melvin were jailed and held without bail.
Shaw and Marven petitioned Congress again, this time from jail, saying that they were only doing what they thought was their duty. Fortunately, Congress took action—creating America's first whistleblower protection law in just seven days, and supporting Shaw and Marven's legal defense, who were both ultimately acquitted.

Whistleblowers in Government: Holding Officials Responsible
ERNEST FITZGERALD
Fitzgerald, aka the "godfather of the defense reform movement", was an engineer and a member of the United States Air Force's Senior Executive Service. While he was working at the Pentagon, he testified before Congress in 1968 that there was a $2.3 billion cost overrun and numerous technical problems with the Lockheed C-5 transport plane, against the advice of senior Air Force officials. In the end, his actions forced Lockheed Corporation to renegotiate their contract with the Air Force and ultimately saved the government almost $300 million.
Nixon ordered that Fitzgerald be fired for revealing "classified" information, but after lengthy legal battles the Civil Service Commission reinstated him with his original responsibilities and back pay. Fitzgerald went on to co-found the Project on Military Procurement, now the Project on Government Oversight.
DANIEL ELLSBERG
Ellsberg, a military analyst for the Pentagon, became increasingly concerned about the actions of the United States during the Vietnam War. Over several months, Ellsberg and his friend Anthony Russo photocopied a top-secret study on the history of U.S. political and military involvement in Vietnam commissioned by the Department of Defense, intending to disclose it publicly. This study, now popularly known as the Pentagon Papers, demonstrated that the U.S. had secretly enlarged the scope of its actions in the Vietnam War with bombings and attacks that went unreported in the media.
At first, Ellsberg gave these papers to the then-National Security Advisor Henry Kissinger and senators on the Foreign Relations Committee, but they were not interested. Ellsberg then approached the New York Times and The Washington Post, and both newspapers began publishing articles on the Pentagon Papers in June 1971. The Nixon administration swooped in and obtained a federal court injunction to cease their publication of classified documents, but Ellsberg released excerpts of the Pentagon Papers to fifteen other newspapers who also began publishing it. The Times and The Post appealed the injunction, and the Supreme Court ultimately lifted the censorship order in New York Times Co. v. United States (403 U.S. 713), a huge victory for freedom of the press. The 2017 film The Post chronicles this story.
Ellsberg and Russo were also charged initially, under the Espionage Act of 1917, but the district court eventually declared a mistrial and dismissed all charges because of government misconduct in the trial proceedings (e.g. gathering evidence illegally, attempting to bribe the judge).
Ellsberg has received numerous awards for his role as a whistleblower, and he remains an advocate for government transparency. The National Archives released all 7,000 pages of the Pentagon Papers online with no redactions on the 40th anniversary of the leak to the press.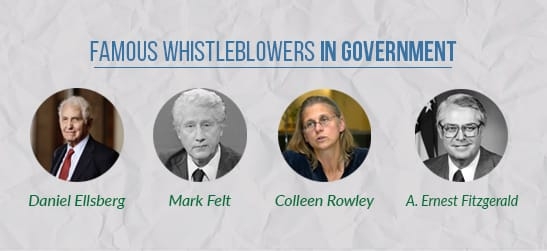 MARK FELT
Though Mark Felt is one of the most famous whistleblowers in history, most people will not recognize his name. They will, however, probably know his pseudonym — Deep Throat. Felt was an associate director of the FBI who provided critical information to Washington Post reporters about the Watergate break-in and plans by the Nixon administration to illegally sabotage Democratic operations. The combination of Felt's tips and tenacious reporting by Bob Woodward and Carl Bernstein contributed to Richard Nixon's decision to resign in 1974.
Felt's identity remained unknown for more than 40 years, until 2005, when his name and his role in the Watergate scandal came to light.
COLLEEN ROWLEY
Rowley, a special agent with the FBI, was one of many agents frustrated by the events that led up to the September 11, 2001 attacks. The Minneapolis field office where Rowley was working at the time had sent information to the D.C. headquarters on suspected terrorist Zacarias Moussaoui regarding his connections to Chechen terrorism and Al Qaeda a month prior. HQ personnel had failed to take action on that information, and Moussaoui was later indicted as a co-conspirator in the September 11 attacks. Rowley wrote a paper for then-FBI director Robert Mueller detailing how the failure to circulate the intelligence on Moussaoui to the appropriate security agencies left the United States vulnerable to the attacks.
Her congressional testimony on this issue launched a major reorganization within the FBI and the creation of a new Office of Intelligence that led to more information-sharing, especially in the area of counterterrorism.
Whistleblowers in Business: Fighting Corporate Greed
JEFFREY WIGAND
Wigand was a biochemist and a vice president of research and development at Brown & Williamson (B&W) when he began to clash with senior executives. Wigand's job was to research safer ways to deliver nicotine by reducing the harm of other chemical compounds in cigarettes, but his research and recommendations were continuously ignored because they might negatively impact sales. His research also involved improving chemicals used for "impact boosting," or enhancing nicotine absorption so it would affect the brain and nervous system faster. Wigand believed that this was a deliberate attempt to increase addiction to cigarettes. At the time, executives at Big Tobacco companies like B&W knew that nicotine was addictive and that smoking was a health hazard, but they kept this secret from the general public, even lying in congressional hearings.
Wigand was fired after arguing with the B&W CEO about a tobacco additive called "coumarin", which B&W continued to use as a flavor enhancer even though Wigand believed it to be carcinogenic and "a form of rat poison". He was forced to sign a strict confidentiality agreement which prohibited him from saying anything related to his work or the company.
Wigand was wary of breaking his confidentiality agreement, and initially refused to talk. But Lowell Bergman, a producer for 60 Minutes on CBS News, convinced him to do a 60 Minutes interview and to testify for the State of Mississippi in a lawsuit against Big Tobacco seeking reimbursement for the healthcare costs of treating smoking-related illnesses. But CBS lawyers were nervous about B&W threatening to sue them, and at first only aired an edited version of Wigand's interview that left out the critical details. B&W still tried to sue Wigand after the edited interview was released, and launched an extensive smear campaign against him.
However, the Wall Street Journal leaked Wigand's confidential deposition testimony in the Mississippi case, and it caused an immediate sensation. Among other things, Wigand said B&W's CEO told him, "Any research on a safer cigarette would clearly expose every other product as being unsafe and, therefore, present a liability issue in terms of any type of litigation." CBS ultimately released his complete, unedited interview, which an executive producer later called "the most important story that was ever reported by 60 Minutes."
In 1998, cigarette companies agreed to pay a $368 billion settlement to the federal government in response to the Mississippi lawsuit and suits filed by 45 other states. Wigand has since consulted on tobacco control policies with governments all over the world.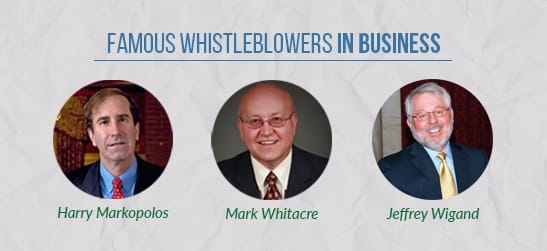 MARK WHITACRE
Whitacre was an Archer Daniels Midland (ADM) executive when he told an FBI agent that he and other senior executives were involved in a multinational, illegal price-fixing operation involving the animal feed additive lysine. Whitacre then worked with the FBI over three years and secretly taped conversations with other ADM executives and co-conspirators at Japanese and Korean companies to collect information about the scheme.
This would become a watershed investigation for the U.S. Department of Justice, leading to the largest ever antitrust fine in U.S. history at the time. Several Asian and European companies that conspired to fix prices with ADM in the lysine and citric acid markets paid fines to the U.S. as well. ADM was also fined by Canada, Mexico, and the European Union, and paid out hundreds of millions of dollars in settlements to resolve federal charges, class action suits brought by customers, and mismanagement suits brought by shareholders. Several ADM executives were indicted on criminal charges and served time in federal prison.
A court also sentenced Whitacre to jail time, however, when it came to light that he had embezzled $9 million while working with the FBI. He was released from prison in 2006, and has since been receiving treatment for bipolar disorder. Several FBI agents who worked with Whitacre have led a campaign to secure him a presidential pardon. Whitacre is the subject of the film The Informant! starring Matt Damon.
HARRY MARKOPOLOS
Sometimes a whistleblower needs to persist for many years before anyone will listen to them. Markopolos was a portfolio manager for a Boston investment management firm when he was asked to analyze the moneymaking methods of "financial whiz" Bernie Madoff so that his firm could also offer a similar product to Madoff's hedge fund. He quickly realized Madoff was running a Ponzi scheme, and he notified the U.S. Securities and Exchange Commission about Madoff's activities on multiple occasions, to no avail. Although a few officials at the Boston SEC office were receptive, they did not have jurisdiction, and the New York office ignored Markopolos' efforts, including a 21-page report he compiled based on 14 years of Madoff's numbers.
Madoff's sons eventually exposed their father's scheme, but in the end, Markopolos' efforts provided investigators with the financial data they needed to prosecute Madoff, who is serving up to 150 years in prison. Markopolos now works as a forensic accounting analyst and specializes in False Claims Act lawsuits and other whistleblower investigations.
Whistleblowers in the Military: Defending Human Rights
RON RIDENHOUR
Ridenhour served as a helicopter gunner in the Vietnam War, and heard about a massacre by U.S. troops at the Vietnamese village of Mỹ Lai while he was on active duty. While the reported death toll varies, Vietnamese governmental sources place it at around 500 people, including women, children and the elderly. The Army initially described the event as a military victory that resulted in the deaths of 128 enemy combatants. Ridenhour continued to investigate the incident while he was deployed, collecting eyewitness accounts from other soldiers. After he returned to the United States he sent letters to 30 members of Congress and to Pentagon officials which led to many indictments against U.S. Army soldiers and officers for their role in the massacre or the subsequent cover-up.
Though in the end, only one man, Lt. William L. Calley, served a brief three and a half years of house arrest for the action, knowledge of the Mỹ Lai massacre was one of the deciding factors in turning the public against the Vietnam War, especially since no one else in the military faced any meaningful consequences.
Ridenhour went on to become a reporter and won several awards for his work. The Nation Institute and The Fertel Foundation created the Ridenhour Prizes, named in his honor, for those "who persevere in acts of truth-telling;" these awards have been presented annually since 2004.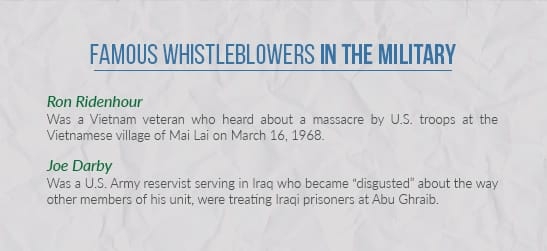 JOE DARBY
Sgt. Joseph M. Darby was a U.S. Army reservist serving in Iraq who became "disgusted" with the way other members of his unit were treating Iraqi prisoners at Abu Ghraib prison outside of Baghdad. In 2004, he provided the Army's Criminal Investigation Division with a CD of photographs that depicted the abuse and torture of prisoners at Abu Ghraib. As a result of his actions, eleven of his unit members from the 372nd Military Police Company who had abused the prisoners were court-martialed, sentenced to military prison, and dishonorably discharged. An additional six soldiers and officers were removed from duty, and the commanding officer of all detention facilities in Iraq was reprimanded and demoted, though most senior personnel emerged unscathed. These photographs shocked and sickened the world, with many calling for the resignation of then-Secretary of Defense Donald Rumsfeld for allegedly authorizing the interrogation tactics used in Abu Ghraib. Rumsfeld ultimately resigned in late 2006.
Darby's identity was disclosed by then-Secretary Rumsfeld on CNN even though Darby had been assured by military command that he would remain anonymous. Darby and his wife reside in protective military custody to ensure their safety.
Whistleblowers in Health Care: Bringing Scandals to Light
PETER BUXTUN
Peter Buxtun, an employee of the U.S. Public Health Service, exposed the most notorious unethical medical experiment in the history of the country, the Tuskegee syphilis experiment. The "Tuskegee Study of Untreated Syphilis in the African American" lasted from 1932 to 1972, and over the course of those 40 years the USPHS lied to and exploited hundreds of poor African-American men in Tuskegee, Alabama with syphilis. Under the guise of free "medical care", these men were offered inadequate treatment or more commonly no treatment at all, even decades after penicillin was found to be an effective cure for the disease. Researchers prevented participants from accessing actual syphilis treatment programs available to other residents in the area, and in fact neglected to tell partipants they had the disease or that they could spread it to their wives who could also pass it to their children. Researchers had additionally lured the men to take part in the experience by offering them free meals and free burial insurance.
Buxtun first learned of the experiments in 1966. When he began to write letters to his supervisors in the USPHS about how the experiments violated patients' rights, other officials tried to intimidate him into silence. Buxtun, however, continued to press officials of the USPHS about the experiments, but to no effect. He left the service in 1968 and went to law school. In 1972, at a dinner party, he approached someone who he knew worked for the Associated Press. She was just as horrified as he was, and she took his research materials to her editor. The story broke on July 25, 1972, prompting Congressional hearings at which Buxtun and officials from the Department of Health, Education and Welfare testified. Public outcry prompted the USPHS and the CDC to appoint a review panel, and the study was halted that same year.
Although largely unknown for the important role he played in exposing this infamous act by the U.S. government, Buxtun received the James Madison Whistleblower Award from the Northern California Society of Professional Journalists in 2014. His decision to expose the experiments also led to new laws that govern research using human subjects and medical ethics committees with non-physician participants. The U.S. government paid $10 million ($50.8 million in today's dollars) and agreed to provide free medical treatment to surviving participants and their families as part of the settlement of a class action lawsuit filed by the NAACP.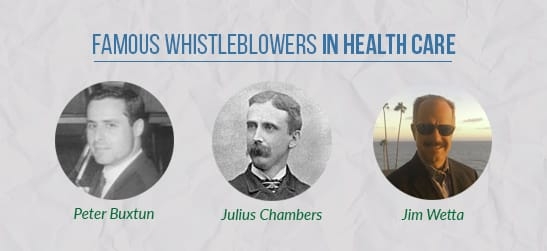 JULIUS CHAMBERS
Investigative journalist Julius Chambers provided one of the first examples of the power of the press to substantially change the way the medical system treats patients. In 1872, he had himself committed to the Bloomingdale Insane Asylum in New York City. He spent ten days in the asylum, carefully watching the way the medical staff treated the inmates. His collaborators helped get him released, and Chambers then wrote an exposé for the New York Tribunein August 1872, detailing the horrid conditions and brutal treatment he had witnessed. His report scandalized the city, and led to the release of 12 patients who had been held indefinitely in the asylum even though they were not mentally ill, as well as to significant changes in the laws concerning the treatment of the mentally ill.
JIM WETTA
Jim Wetta played a key role in exposing two of the most egregious cases of drug companies over-marketing one of their products for uses not approved by the FDA.
In 2003, while working as a sales rep for Eli Lilly, he helped initiate a whistleblower lawsuit alleging that the company was illegally marketing the anti-psychotic drug Zyprexa. In 2009, Eli Lilly paid $800 million to settle whistleblower lawsuits, $438 million to the federal government and $362 million to states. Wetta received a portion of these settlements. Eli Lilly also paid a $515 million criminal fine, the largest criminal fine for an individual corporation ever imposed in a United States criminal prosecution of any kind. In total, Eli Lilly paid $1.415 billion to resolve allegations of off-label promotion of Zyprexa, and signed a plea agreement admitting guilt to the criminal charge of misbranding, specifically admitting that they promoted Zyprexa in elderly populations as treatment for dementia.
In 2004, Wetta went to work for AstraZeneca, where he soon found the pharmaceutical company was engaged in many of the same practices as Eli Lilly, illegally marketing their anti-psychotic drug Seroquel. The FDA approved this drug only for treatment of schizophrenia and bipolar disorder, but AstraZeneca allegedly marketed Seroquel to physicians for treatment of other conditions like Alzheimer's disease, anger management, anxiety, ADHD, and sleeplessness. AstraZeneca denied the federal charges, but agreed to settle for $520 million; Wetta also received a portion of this settlement.
Contact Whistleblower Attorneys at Goldberg Kohn
These cases above are just a few of the many examples of how individuals have become whistleblowers in some of the best-known government, business and health care cases in the history of the United States. If you believe it's time for you to come forward and report wrongdoings you've seen, please contact Goldberg Kohn. Our whistleblower attorneys want to help you fight fraud against the government and recover as large a share of the rewards outlined as possible, as well as protecting your rights as you go forward. We understand that it's not easy to "blow the whistle," but the law is on your side and our experienced attorneys are here to help. Read more about successful whistleblower settlements Goldberg Kohn attorneys have obtained for our clients, or contact us to schedule a free and confidential consultation.