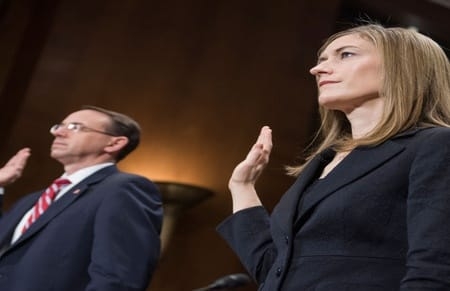 The Brand memo was issued in January 2018 by then-Associate Attorney General Rachel Brand, limiting the use of guidance documents in civil enforcement actions and preventing DOJ attorneys from using informal agency guidance as binding law. To understand more, it is important to first understand the Sessions memo.
The Sessions Memo
On November 16, 2017, former Attorney General Jeff Sessions issued a memorandum that prohibits the DOJ from issuing guidance documents that have the effect of adopting new regulatory requirements or amending the law binding on persons or entities outside the Executive Branch. In the memorandum, Sessions says, "It has come to my attention that the Department has in the past published guidance documents – or similar instruments of future effect by other names, such as letter to regulated entities – that effectively bind private parties without undergoing the rulemaking process." In other words, the policy prohibits agencies from evading notice-and-comment rulemaking by simply issuing guidance memoranda to create real and binding regulations.
Notice-and-comment rulemaking
In order to uphold the law of the U.S. and to ensure the fair and impartial administration of justice, the DOJ engages in regulatory activity in accordance with the law. In disseminating regulations, the DOJ must abide by constitutional principles and follow the rules imposed by Congress and the president. These rules include the requirement that agencies regulate only within the authority delegated to them, which may include notice-and-comment rulemaking when attempting to create rights or obligations binding on members of the public or the agency.
Notice-and-comment rulemaking is a common rulemaking procedure under which a proposed rule is published in the Federal Register and is open to comment by the general public. Notice-and-comment rulemaking is generally required by the law, and helps agencies compile more complete information about a proposed rule's effects than the agency could find on its own, thereby fostering better decisions.
Not every agency action is required to undergo notice-and-comment rulemaking. Agencies may instead issue guidance that is education oriented, or issue non-binding advice. However, guidance cannot be used to substitute rulemaking and cannot be used to impose new requirements on entities outside of the Executive Branch.
The Brand Memo
As a follow up to Sessions' Memo, then-Associate Attorney General Rachel Brand issued another memo, known as the "Brand memo", a few months later. The Brand memo limits the use of guidance documents in civil enforcement actions and prevents DOJ attorneys from using "informal agency guidance as binding law".
According to the Brand memo, guidance documents cannot create binding requirements that do not already exist by statute or regulation.  The Department may not use its enforcement authority to turn agency guidance documents into binding rules, or use noncompliance with guidance documents as a way to prove violations of the law in affirmative civil enforcement cases.  Civil enforcement actions include any DOJ lawsuit to recover government funds lost to fraud or misconduct, or to impose penalties for violations of federal health, safety, civil rights, or environmental laws.
"Although guidance documents can be helpful in educating the public about already existing law, they do not have the binding force or effect of law and should not be used as a substitute for rulemaking," Associate Attorney General Rachel Brand said in her announcement about the new policy.  "Consistent with our duty to uphold the rule of law with fair notice and due process, this policy helps restore the appropriate role of guidance documents and avoids rulemaking by enforcement." 
The Brand memo does not include internal directives, memoranda, or training materials for agency personnel, positions taken by DOJ in litigation, or advice provided by the Attorney General or Office of Legal Counsel. Under this definition, then, the Brand memo is not agency guidance.
The Joint Effect of These Memoranda
While the Sessions memo focused on DOJ's promulgation and use of its own guidance documents, the Brand memo expands this policy to all agency guidance documents, effectively preventing the DOJ from allowing sub regulatory guidance to impose new legal obligations by making it so the DOJ cannot use "its enforcement authority to effectively convert agency guidance documents into binding rules".
The Sessions memo prohibited the Department from publishing guidance documents that effectively bind the public, without undergoing the notice-and-comment rulemaking process.  The Sessions memo defines "guidance documents" as "any Department statements of general applicability and future effect, whether styled as 'guidance' or otherwise, that are designed to advise parties outside the federal Executive Branch about legal rights and obligations falling within the Department's regulatory or enforcement authority."  
The Brand memo was meant as a follow-up, prohibiting the DOJ from using its civil enforcement authority to convert agency guidance documents into binding rules.  Brand believes that the principles of Sessions' original memo are relevant to more than just the Department's own publication of guidance documents, and therefore the principles should also guide DOJ litigators in determining the legal relevance of other agencies' guidance documents in affirmative civil enforcement.