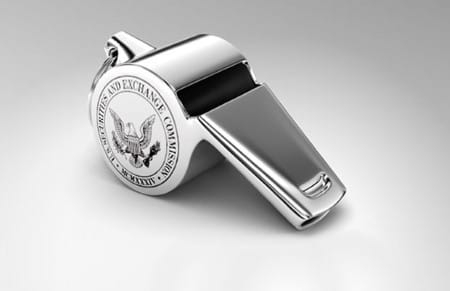 In 2015, over 80 percent of the United States' civil fraud recoveries were the result of whistleblowers reporting fraud against the government and taxpayers. The government's recovery from those whistleblower reports was in excess of $2.9 billion. The U.S. Department of Justice relies heavily on the bravery and integrity of whistleblowers to protect government programs from unethical individuals and corporations who fleece United States taxpayers.
Congress Recognizes the Importance of Whistleblowers
The False Claims Act establishes monetary incentives for whistleblowers who provide valuable information regarding fraud against the government. Whistleblowers may receive awards of between 15 to 25 percent of the government's recoveries when the government joins the whistleblower's qui tam lawsuit.  When the government declines to join a whistleblower's lawsuit, whistleblowers remain free to pursue the case, with the assistance of a qui tam attorney.  Indeed, Congress has incentivized whistleblowers to do so by increasing the award for whistleblowers to between 25 to 30 percent.
Civil Fraud Recoveries in 2015
The U.S. Department of Justice (DOJ) recovered over $3.5 billion in judgments and settlements involving civil fraud in 2015. In fact, every year since 2011, the Civil Division of the Justice Department has obtained more than $3.5 billion from whistleblower cases. According to the DOJ: "Whistleblowers and the False Claims Act are our most effective tools for digging up fraud and returning billions of dollars to programs funded by taxpayers."
Nearly $2 billion of civil fraud recoveries in 2015 came from entities in the healthcare industry. Whistleblowers uncovered numerous instances of inadequate and/or unnecessary care, kickbacks and overcharging of services and goods paid for by Medicaid and Medicare. The largest recoveries involved a dialysis services provider that repaid the government $450 million. Another major civil fraud recovery in 2015 involved several hundred hospitals that unnecessarily implanted heart devices in Medicare patients.
Goldberg Kohn Civil Fraud Recoveries
Representing former Community Health Systems, Inc. employees in a qui tam lawsuit, Goldberg Kohn presented evidence to the government that CHS knowingly billed federal healthcare programs for inpatient treatment that should have been billed as outpatient services.
The Department of Justice concluded that Community Health Systems, Inc., "engaged in deliberate, corporate-driven schemes meant to increase inpatient admissions of Medicaid, Medicare and the Department of Defense's TRICARE program beneficiaries." Goldberg Kohn's whistleblower clients were instrumental in causing CHS to pay back $98 million to the government.
In another qui tam case, Goldberg Kohn represented a former employee of Total Pharmacy, who reported a kickback scheme involving Omnicare's acquisition of Total Pharmacy. After the government declined to join the case, Goldberg Kohn's attorneys litigated the case, resulting in a total recovery in excess of $20 million.
Dedicated to helping whistleblowers expose fraud against taxpayers and the government, Goldberg Kohn whistleblower lawyers are also committed to protecting your rights as a whistleblower. If you wish to discuss a possible case of fraud against an employer, contact us today to schedule a confidential, free consultation with a nationally recognized whistleblower lawyer.